I feel like I am revealing some deep, internal secret but I wanted to reveal why I love eBay so much.
I monitor my favorite eBay stores religiously, and a couple of these girls have some really amazing vintage finds. I also like the independent, DIY nature of the eBay store and its a really great excuse to watch the different way people wear things. Perhaps I should try my hand at selling online as well...
This is Noelle at
Maki Maki
. Shes a super sweetie, and she manages to find some dresses that are mind blowing. She gains cred too because she's down with Canadian
Sharon Davies,
a photographer that has snapped us both (and a fellow friend of mine from Montreal). Her style is phenomenal, and she always starts everything at $9.99 - though, because she has such good finds and wears them so well, they usually end at MUCH more. She also needs to tell me where she gets her shoes.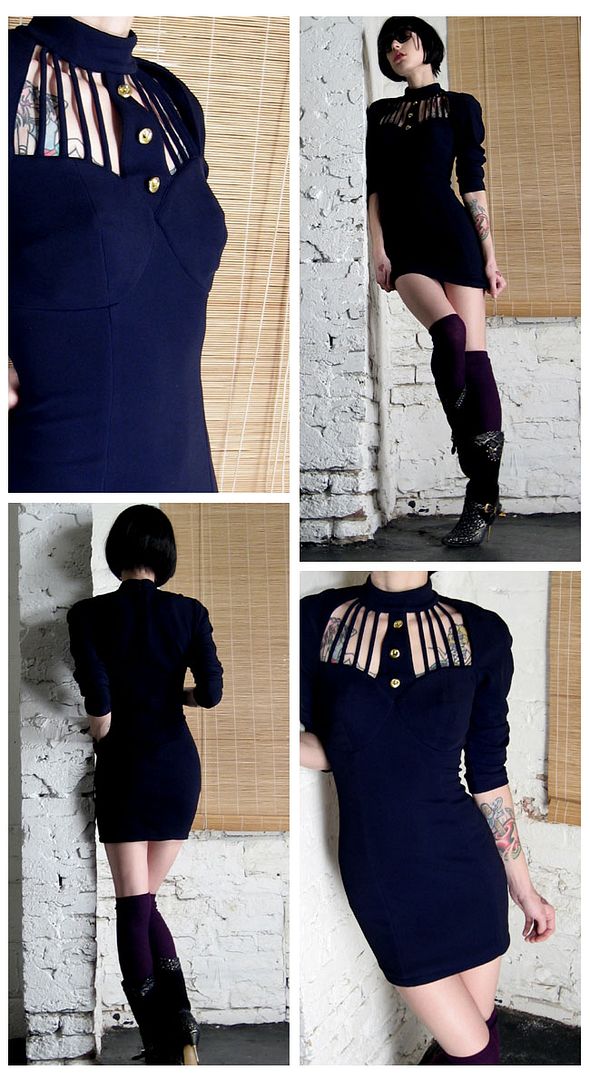 I also really dig the items I can find from fellow New Yorker
thrift wares
. She does avant garde, hard to find 60s and 80s gear really well (you know, as only a New Yorker can do). I don't really know the girl behind it, but she seems incredibly laid back and my room mate thinks the reason I like her so much is cuz she looks a bit like me (or I look like her...) Any way, she has a lot of great black and post-punk items, and her page is presented very coherently. And she is really prolific too - she always gets new stuff.

Noir Ohio
is based in the Midwest, and being from the center too I know that the majority of of coastless people have no idea what the value of their thrift clothing is. I think that Noir tends to have the most consistently awesome stuff - I buy from them constantly. I also really dig the font she has on her back tattoo, and I can appreciate Alex & Chloe. Her styling is very edgy/ultra-hipster but she has a solid selection of day/night wear.
For good mod/day time stuff, I really like
Retrogarb
. I just recently got a military style jumper-dress from them and they are good for beautiful items that are a little more on the simple, feminine side (nothing overt). And the girls over there are super adorable too.
I will be totally irritated if any of you outbid me. But check these girls out.